Route No.1: Reed flute cave (6km)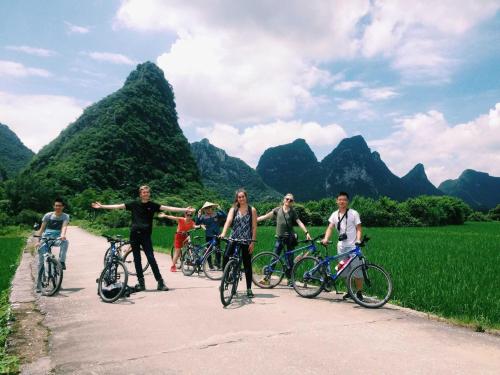 With its location five kilometers northwest of the downtown of Guilin, the Reed Flute Cave is a brilliant cave marked on almost all travel itineraries. The cave got its name from the verdant reeds growing outside it, with which people make flutes. Inside this water-eroded cave is a spectacular world of various stalactites, stone pillars and rock formations created by carbonate deposition. Illuminated by colored lighting, the fantastic spectacle is found in many variations along this 240-meter-long cave. Walking through the serried stone pillars, tourists feast their eyes on changing spots, feeling they are in a paradise where the Gods live.
It is a Chinese habit to give each formation a legendary or poetic name such as Crystal Palace, Dragon Pagoda, and Virgin Forest, Flower and Fruit Mountain and other interesting names. For some of these names, you need to use your imagination, but the story behind each is quite fun. It's a pleasure to listen to romantic or fairy tales whilst appreciating the fantastic stone formations. Both the stories and the lighting add mystery to the scene. Although there are different kinds of lighting inside, you are not supposed to take photos unless you are a professional photographer, because the light inside is not sufficient for exposure. At some spots, such as the Crystal Palace or Flower and Fruit Mountain, special photography is offered at 20 yuan for one picture. (They use special equipment to provide enough illumination.) Some 70 inscriptions on the cave wall are said to be travelogues and poems derived from the Tang Dynasty, which made the cave a popular tourist site at that time.
Route No.2 Yao Mountain, 10km, 1 hour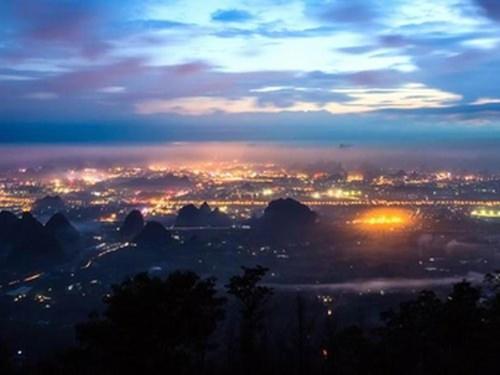 Yao Mountain is the highest of Guilin's city peaks. There's an excellent view from the top, which you can get to either by cable car, or with a hike up the hill itself. The hike is worth it, particularly in spring when the mountain plays host too many wild flowers, azaleas being particularly noteworthy in March.
About 450 meters above sea level is Yao Temple, built during the Qin Dynasty (221–206 BC), which gave the mountain the name. In front of Yao Temple is "heaven-sent field" (an area with a stable yield despite drought or excessive rain).
At an altitude of about 700 meters is Bailu Temple, residence of a famous monk in the Tang Dynasty (618–907).
At the top there are facilities for resting, relaxing and shopping — or just hiding out from the rain — before heading back down again.
Route No.3 Daxu Ancient Town, China's Little Hidden Gem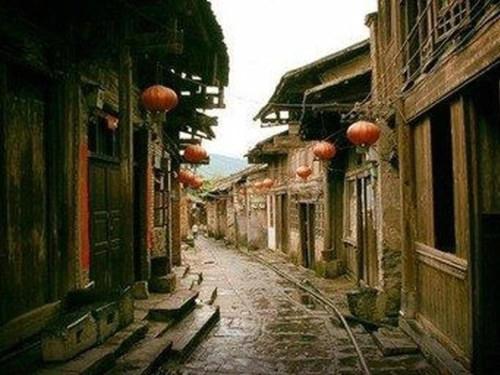 Daxu Ancient Town, 20km, 1.5 hoursSurrounded by lush scenery in the Guangxi Zhuang Autonomous Region of Southeast China is the quiet and rural town of Daxu, one of China's little hidden gems. Located approximately 20 kilometers southeast of Guilin, near the bank of the Li River, Daxu is noted for its well preserved ancient buildings, worn bluestone streets and traditional culture.
The history of Daxu dates back to over 2,000 years ago when it was founded during the era of the Qin Dynasty that ruled in China between the years of 221 and 207 BC. Centuries later during the Ming Dynasty, Daxu thrived as a leading trade and commercial hub due to its close proximity to the Li River. The thirteen docks that can still be seen in Daxu today are the remnants of this former golden age.
As industry, technology and tourism grew and spread elsewhere in China over the next several hundred years, the ancient village of Daxu somehow managed to make time stand still and has maintained its antique architecture and traditional way of life.
What to see in Daxu:
The old street, the Historical architecture, the longevity bridge, the 13 docks, the seven stars tombs, the traditional market.